A focused sound approach to treating musculoskeletal injury.
PIEZOWAVE² VET SHOCKWAVE THERAPY
Since its introduction into the veterinary world, shockwave therapy (ESWT) has evolved. Both the ability of piezoelectric technology to generate shockwaves and the more complete understanding of the biological mechanisms of action provide clinicians that utilize the PiezoWave² Vet the opportunity to avoid sedation, eliminate loud treatment noise, and minimize the cost of equipment maintenance.
As science and technology evolve, ELvation USA is committed to help all practitioners to get the best results for their patients by sharing what we're learning from our community of users.

We've provided a few ways that users can share, and exchange information:
Free Continuing Education
Our Private Facebook Group
Our Rehab Lab Podcast
Our monthly user forums via zoom
A library of best-use videos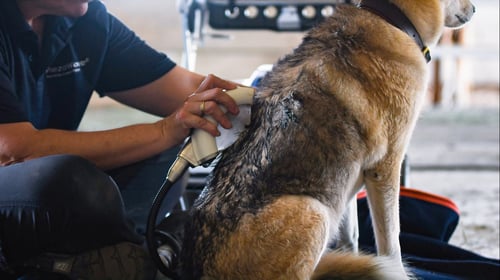 Modern Shockwave is here!
Resources
We've curated resources for you and your team to understand the technology, design appropriate protocols, and determine the best applications for use.
Join Our User's Group
Connect with other users and industry experts to discuss protocols and cases.